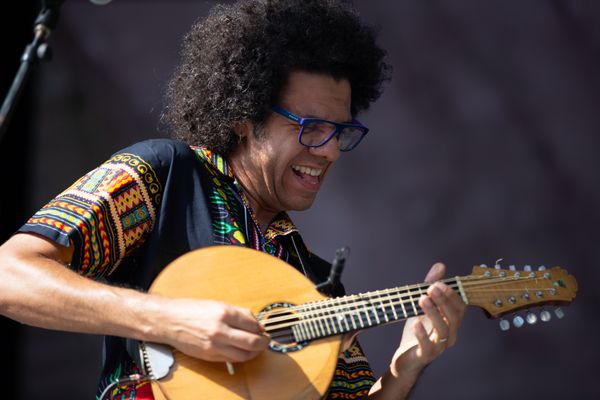 "He is the embodiment of everything we want in a musician…"
-Wynton Marsalis        

"I would love to record with him"
-Wayne Shorter
"For me he is the best in the world"
-Chucho Valdes

"He is the man!"
-Dave Mathews

"...best mandolin player in the world"
-Hermeto Pascoal
"A noted master of the Brazilian version of mandolin"
-Billboard 
"...he was a superstar of the festival. The music seemed to flow from his fingertips so naturally.." 
 -Live For Live Music
Cick here for information about the Hamilton de Holanda Quartet release, "Harmonize", released May 2019
0:00/3:37

0:00/4:01

0:00/3:58

0:00/4:22

0:00/3:54
Hamilton de Holanda was born on March 30, 1976, into a musical family. His first instrument, at the age of four, was the Melodica. Two years later (1982) he began his professional career as a six-year-old mandolin prodigy on a national TV show with an audience of over 50 million. Today, as a composer, improviser, bandleader, and educator Hamilton`s music transcends genre as his improvisational genius dazzles audiences around the world. 
Hamilton`s music comes from the encouragement of his family, the consolidation of his college degree in composition and the freedom of jam sessions in the streets of the Brazilian capital, Brasilia, where he grew up. His first genre was Choro, a Brazilian cultural heritage and the cousin of Jazz. He co-founded the first Choro School in the world (Brasilia, 1997) and spearheaded the petition to the National Congress to grant Choro a National Day. As a result, since 2000, April 23 is celebrated in Brazil as The Official Choro Day by proclamation of the Brazilian president, exposing the first Brazilian popular music to the people.
Also in 2000, an emblematic year for him, Hamilton reinvented the traditional 8-string Brazilian Bandolin (Mandolin) by adding a pair of extra strings tuned to low C (going from 8 to 10) giving it a deeper voice that emancipates the emblematic Brazilian instrument from the legacy of some of its influences and genres. The increase in the number of strings, combined with the fast solos and improvisations, inspires a new generation to take up the 10-string mandolin. 
Hamilton's playing and improvising transcend limitations and genres. Today he travels to the different corners of the planet "bringing his heart to his fingertips" performing his own compositions with his signature sound. He interacts with other music traditions, ensembles, and instruments. This allows him to be invited to be the guest soloist of Wynton Marsalis and his Jazz at Lincoln Center Orchestra or to perform his own compositions with Symphony orchestras from around the world; from Rock/Pop Festivals to Dave Mathews Band at The Gorge; from The Central Park Summer Stage in New York City to The Summer Olympic Games in Rio de Janeiro; from noble museums like The Smithsonian in Washington or the Grand Palais in Paris to the famous Carnival in Rio. He has performed in Australia, Paris, Germany, Amsterdam, Rome, Norway, Los Angeles and other countries, cities and festivals around the world.
Hamilton is active on social media where his global numbers are impressive for an instrumental musician (e.g. over 720k monthly listeners Spotify). In Brazil he has attained star status, receiving acclaim and several prizes from critics and peers. He is a multi-award musician including winning several Latin Grammys, Prêmio da Musica Brasileira, Echo Jazz, Choc and countless nominations. 
The popular support inspired him to promote benefit concerts for Brazil's major tragedies and social projects like ABRACE, which provides social assistance for children and adolescents with cancer and blood diseases. Hamilton also supports musical programs for people from economically disadvantaged areas to bolster their self-image, and help young people find inspiration and jobs. 
Hamilton has a long discography of his own compositions, and tributes to some of his idols. He has launched his recordings on his own independent label Brasilianos and partners like Universal, ECM, MPS, and Adventure Music. He understands that the music industry needs categories and definitions for the music he plays - such as Jazz, Brazilian Jazz, and Brazilian Popular Music - but for him inspiration transcends labels and is something that freely rises without the need to be defined. He likes to explain himself as a musical explorer in search of beauty and spontaneity.
Hamilton has shared the stage, or recorded with, Wynton Marsalis, Chick Corea, The Dave Mathews Band, Snarky Puppy, Paulinho da Costa, Chucho Valdes, Egberto Gismonti, Ivan Lins, Milton Nascimento, Joshua Redman, Hermeto Pascoal, Gilberto Gil, Richard Galliano, John Paul Jones, Bela Fleck, Stefano Bollani, and many others.