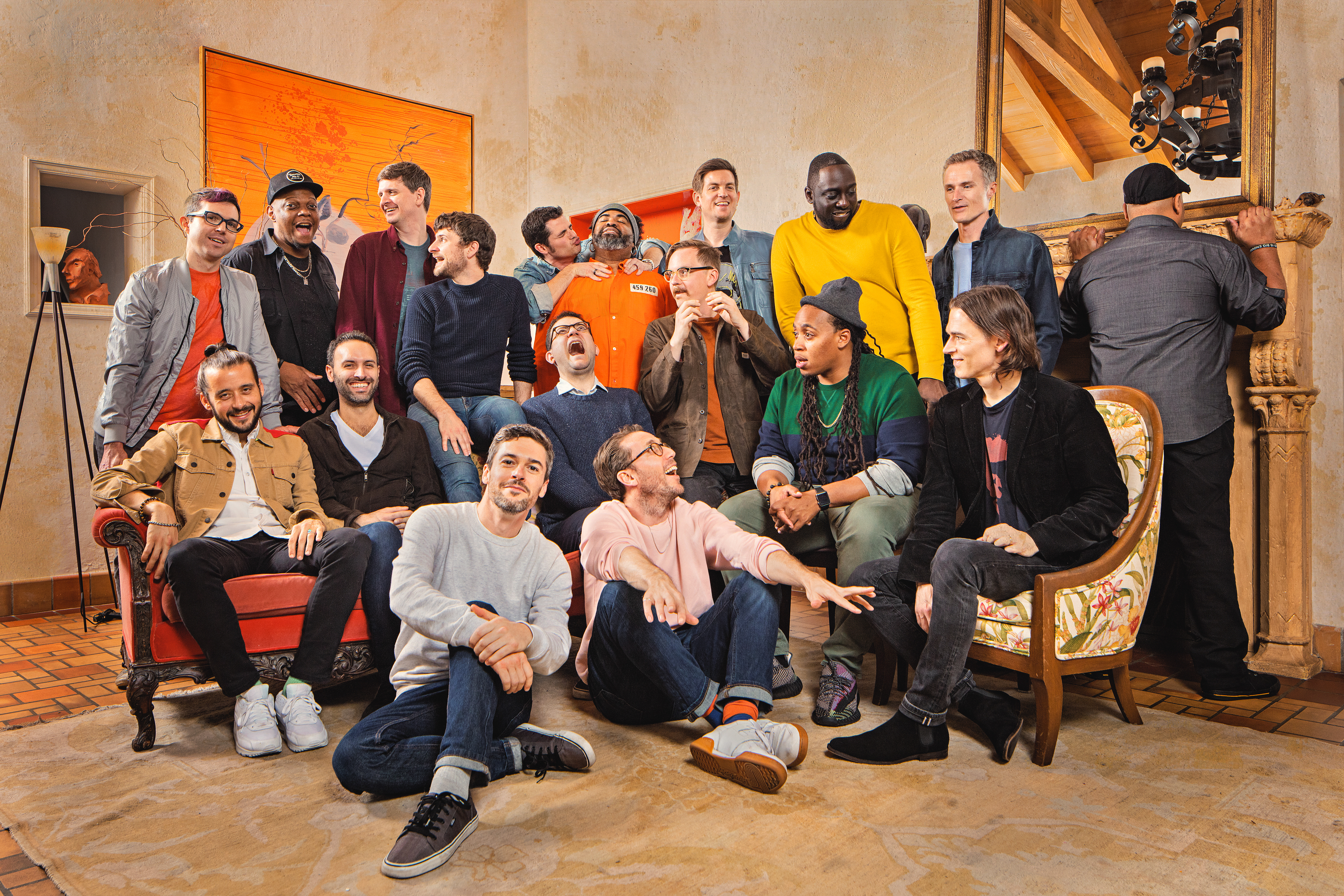 • Snarky Puppy's CD/DVD release, Family Dinner Vol. 2, debuted at #2 on iTunes Jazz Chart  on 2/12/16

• Snarky Puppy's CD/DVD release, Sylva, debuted at #1 on iTunes Jazz Chart, and climbed to the #1 spot in Billboard's Top Current Jazz Album and Contemporary Jazz Album categories, as well as #2 on their Heatseeker Chart on 6/4/15

• This band is on the pulse of the youth jazz movement worldwide. Their sheet music is part of music school curriculum in high schools and universities in the US and Canada

• Snarky Puppy's last four releases have all debuted at #1 on iTunes in US, Canada, UK and New Zealand and in top 5 in Germany, France and Netherlands

• Snarky Puppy - named to the iTunes "Best of 2012 Albums" in the Jazz category

• With the release of their 2-disc album/DVD "groundUP" (Ropeadope Records), Snarky Puppy went from an underground secret to one of the most internationally respected names in instrumental music
---
"Snarky Puppy's Michael League on the Joyfully Eclectic Group's Latest Evolution" (Rolling Stone interview)
"Jazz-meets-funk mini orchestra Snarky Puppy has unveiled a new video for "Bad Kids to the Back," a crisp, strutting new track written by trumpeter-keyboardist Justin Stanton, and slated for the group's upcoming LP, Immigrance"
"Snarky Puppy can seemingly adapt to any and every genre."
"One of the more versatile groups on the planet right now."
- Rolling Stone
---
"Snarky Puppy might be today's most popular band whose audience wouldn't be fazed by a nearly 10-minute-long lead single with no words…Crunchy guitar slices out a truncated phrase in conversation with an insistent snare drum, and flutes and trumpets drape a humid cloud cover overhead."
"Maybe you didn't notice, but this is Snarky Puppy's world, and the rest of us only live in it."
"A barnstorming, groove-centric instrumental act with a rabid fan base."
- The New York Times
---
"With their clever mix of jazz, funk, rock, and world music, they've reached a wide audience while remaining a moving target."
- WNYC New Sounds
---
"Many artists have attempted to bring jazz, kicking and screaming, into the modern age. Snarky Puppy, a loose collective from New York by way of Texas, makes it look effortless."
- SF Chronicle
---
"They're building a new kind of instrumental music, and they've already built a fan base who love what they hear."
- KNKX 
---
"Big, rich and funky."
- NPR Music
---
"Enjoy a wild cruise through jazz, funk, and R&B as the Grammy-winning Brooklyn collective...The group is expected to premiere fresh compositions alongside long-beloved tracks for a can't-miss evening part of the Phil's jazz series."
"Stands out with a furious commitment to defying musical categories."
- LA Times
---
"Thinking person's feel-good music."
- Downbeat
---
"A big, happy band of skilled musicians whose tunes are both complex and easy to dance to.."
- LA Weekly
---
Snarky Puppy Released Immigrance March 15, 2019 on GroundUP Music (click here for press release)
Snarky Puppy's Eye-Popping Animated Video Is A Surreal Visual Adventure (click here for press release)
Trinity is the first release from Empire Central , Snarky Puppy's 14th album released in September 2022
•  Currently have over 433,000 monthly listeners on Spotify
• Currently have over 518,000 followers on Instagram and 497,000 followers on Facebook
• Snarky Puppy are 2023 Grammy Award winners for Best Contemporary Instrumental Album for the album Empire Central
• Snarky Puppy are 2020 Grammy Award winner for Best Contemporary Instrumental Album for the album Live At The Royal Albert Hall
• Snarky Puppy is the DownBeat Readers Poll Winner for Favorite Jazz Group 2017
• Snarky Puppy are 2017 Grammy Award winner for Best Contemporary Instrumental Album for the album Culcha Vulcha

• Snarky Puppy are 2016 Grammy winners for Best Contemporary Instrumental Album for the album Sylva with Metropole Orkest

• Snarky Puppy are 2014 Grammy winners for Best R&B Performance for the song "Something" with Lalah Hathaway
After almost 2,000 shows, 13 albums, 5 Grammy awards, 8 JazzTimes and Downbeat awards, hundreds of masterclasses at educational institutions around the world, and over a decade and a half of 19 rotating band members, who have each embarked on their own solo careers in addition to working as sidemen with a variety of artists across the musical spectrum, it would seem as though Snarky Puppy is ready to slow down a bit and enjoy the ride. But on the heels of their most recent Grammy Winning album, Live At The Royal Albert Hall, the band is doing anything but.
In fact, Snarky Puppy is as driven and focused in its 18th year as it has ever been. The success that the group has achieved has opened doors to new creative possibilities: their own record label, collaborations with a diverse array of artists, playing opportunities in underserved regions, their own annual music festival, and ambitious recording projects unlike anything they've undertaken before.
But it wasn't always this way for the Texas-born, Brooklyn-based ensemble. Snarky Puppy was formed in 2004 in Denton, Texas, where founder Michael League was attending the University of North Texas. He created the group (made up of 10 university students) as an outlet for his compositions with the humble goal of weekly rehearsals in a tiny garage apartment a few blocks from the town square. The first Snarky Puppy show took place in the basement of a small pizza shop (J&J's Pizza on the Square), and the band started playing for free around town. After making the album The Only Constant in a local studio, the band booked its first "tour" of tiny bars and college basement parties between their home in Texas and League's mother's house in northern Virginia. This trip, done in a passenger van and trailer with a shoestring budget and sleeping bags in lieu of hotel rooms, was the beginning of a very arduous decade of touring and recording in all but complete obscurity. In its first ten years, Snarky Puppy made endless loops through the United States playing in any little place that would take the risk of booking them. League and several other members moved an hour south to Dallas and became deeply embedded in the city's rich gospel and R&B scene, and as a result, added heavyweight musicians such as Bernard Wright, Robert "Sput" Searight, Bobby Sparks, Mark Lettieri, and Shaun Martin to the band's ranks. The sound began to change dramatically, illustrated in Snarky Puppy's third album, Bring Us The Bright.
Gaining fans one by one through their travels, the band shifted tactics and decided to make a live, in-studio album with some added components- a live audience and video cameras. Outfitting both the band and public (made up entirely of close friends) in headphones, the 2010 album Tell Your Friends (on Philadelphia indy label Ropeadope Records) gave Snarky Puppy its first significant increase in listener interest. The band utilized then cutting-edge social media platforms YouTube and Facebook to reach international listeners for the first time and used that momentum to launch its first European tour. The three years that followed saw non-stop traveling with between 150 and 200 shows per year in an attempt to develop its slow-growing momentum into something sustainable. League and many other band members moved to Brooklyn, working as sidemen in groups and around town (as well as wedding bands and anything else that would pay the bills) when not on the road with Snarky Puppy. They recorded their fifth album, groundUP, and launched an imprint of the same name as a sub label of Ropeadope records, signing independent artists from various countries and genres.
With the release of the collaborative Family Dinner - Volume One in 2013, the band got its first real break. Lalah Hathaway's performance of the song "Something" earned her and Snarky Puppy their first Grammy award (for "Best R&B Performance). They continued touring rigorously, releasing the Euro-centric We Like It Here in 2014, the Grammy-winning Sylva alongside the Metropole Orkest (conducted by Jules Buckley) in 2015, and both Family Dinner - Volume Two (featuring artists like David Crosby, Jacob Collier, Salif Keita, and Laura Mvula) and the Grammy-winning studio album Culcha Vulcha in 2016. The following year, Snarky Puppy launched the first annual GroundUP Music Festival, an intimate gathering of 1,500 music listeners and 25-30 groups from all over the world and across the musical spectrum in Miami Beach, Florida. Past performers include Esperanza Spalding, Lionel Loueke, Béla Fleck and the Flecktones Trio, Tank & The Bangas, Concha Buika, Eliades Ochoa (of the Buena Vista Social Club), Susana Baca, and The Wood Brothers, among many more.
Staying away from its well-established live-in-studio-album approach, 2019 saw the release of Snarky Puppy's 13th album, the analogue slow-burn Immigrance (which reached #2 on the Billboard Jazz charts), another Downbeat award for "Best Jazz Group," and a 182-show touring year over 4 continents. Their concert in London's legendary Royal Albert Hall was recorded live and officially released in spring of 2020 and went on to win the band their fourth Grammy award. They remain wholeheartedly committed to music education and advocacy, having given more workshops and masterclasses in 2019 than in any year previous.
The GroundUP Music Festival, born in 2016 and held in Miami each year, has welcomed artists from around the world, including Michael McDonald, Chris Potter, David Crosby and so many more. Due to the pandemic the 2020 festival sadly couldn't go ahead. However, the Festival took a different direction in 2021 when it was streamed live over a weekend from Michael League's village in Catalonia, It featured an eclectic mix of musicians and bands, guaranteeing that although fans didn't get to spend the weekend in the Miami sunshine, they were still able to enjoy live music from a fabulous location, wherever they were in the world. The festival makes a welcome return to Miami in May 2022.
Through all of this, Snarky Puppy continues to look forward. In March 2022 they recorded their 14th album, Empire Central, an unapologetic love letter to Dallas, the place where it all began back in 2004. Recorded in front of a live audience over 7 days, this will be their most ambitious and expansive project to date. The album will be shared with the world in September 2022. It's sound is big and bold, chill and laid back, rooted in its native culture while reaching outward, forward bound. With 16 new compositions, the group looks fondly at where it's come from, confident in the polished power from which its members continue to build the unique Snarky Puppy sound.
Touring is back in 2022 with the venues, countries and circumstances as diverse as ever. Dates this year include a double header US tour with Steely Dan in May / June, European festivals in the summer, and the world tour promoting the new album, which will kick off with a five week-long tour throughout Europe in the autumn and continue throughout 2023. The band's tradition of recording, mixing and releasing every live show the following day (their archive now has over 200 concerts currently available) will, or course, continue.