Natalie Cressman & Ian Faquini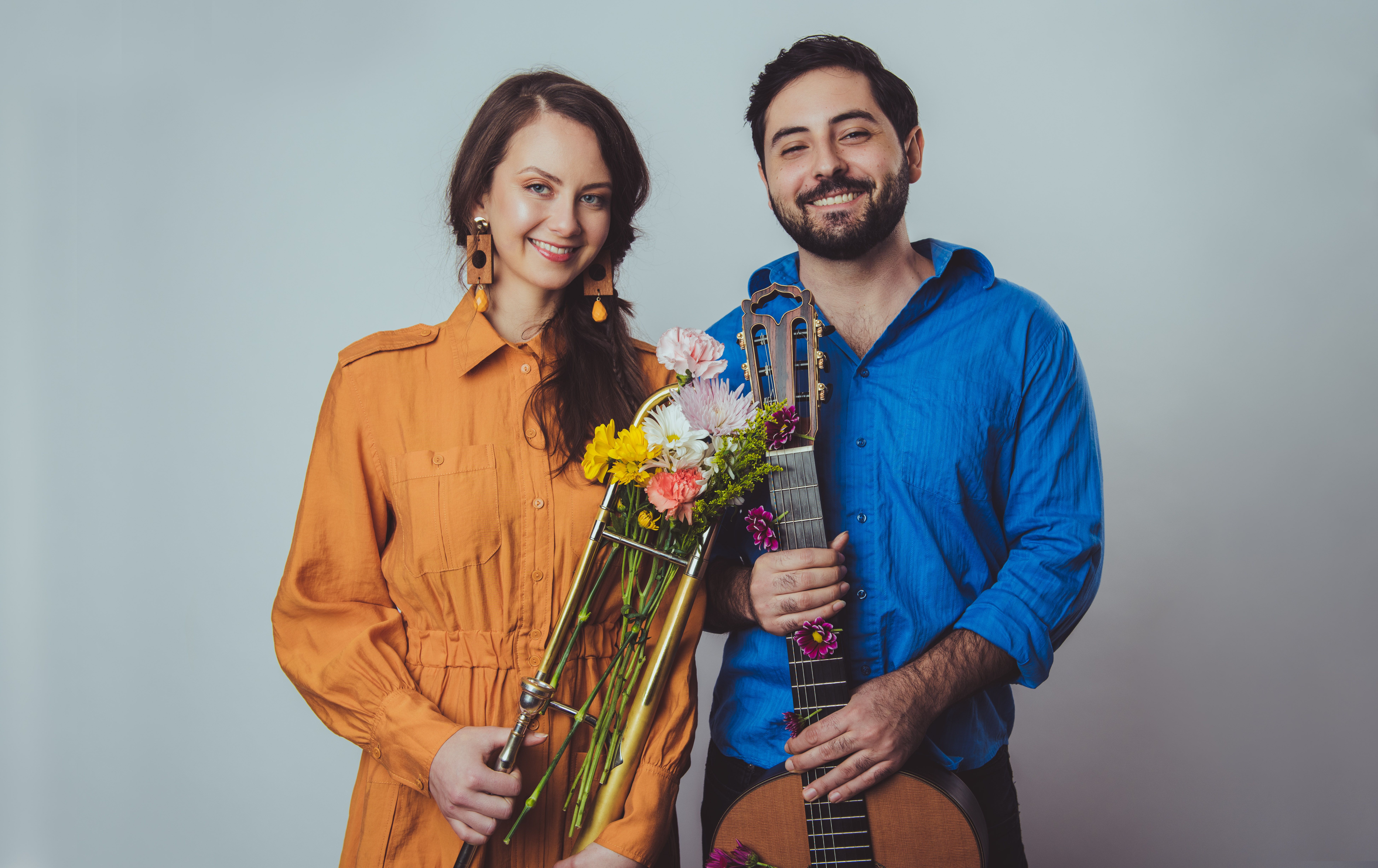 Photo Cred: Lauren Desberg Photography
"Auburn Whisper, the 2022 album from trombonist, singer, and songwriter Natalie Cressman and guitarist, composer, and vocalist Ian Faquini, not only serves as a testament to the couple's symbiotic musical partnership but also to their resilience during unprecedented times."
On "Already There", a track from Cressman and Faquini's new album, Auburn Whisper, the duo uses the convivial but intentional sotto voce that lovers do, playing off each other's sense of calm and closeness. Cressman's vocal is clarion-clear but there's a quaver in it that makes it a perfect counterpart to the warm, relaxed breathiness of her trombone. Whether in multitracked harmony or solo, her brass playing is emotive and free, occasionally tough, always tender. 
- A.D. AMOROSI, JazzTimes
"Natalie Cressman and Ian Faquini's unusual duo album Setting Rays of Summer sounds as fresh and revivifying as a clear mountain stream." 
- Andrew Gilbert, JazzTimes
"Live, and on this album, Faquini's unaffected tenor voice is accompanied sweetly but with deft syncopation on his acoustic guitar. Cressman's sylphic, clear soprano sings in harmony or solo, and she switches effortlessly to slide trombone…It may also be the first time, in a long time, that record-buyers and live audiences have heard something Brazilian or otherwise that's so unaffected and accessible to the heart."
- Jeff Kaliss, SF Classical Voice
"The resulting blend carries a powerful intimacy in the sound of their harmonized voices sailing over supple acoustic guitar and the occasional blast of smooth, pumping trombone This CD conveys a quiet, understated closeness that is really touching." 
- Jerome Wilson, All About Jazz
"A gorgeous and sensuous album…Casual, unpretentious and as delicious as dipping your bread into a plate of fresh olive oil."
- George W. Harris, Jazz Weekly
• Currently have over 20,900 followers on Facebook and over 29,600 followers on Instagram (combined)
• 2023 - DownBeat Rising Star Trombone - WINNER
• 2019 - DownBeat Rising Star Trombone - WINNER
Trombonist and singer/songwriter Natalie Cressman and Brazilian composer, guitarist, and singer Ian Faquini have created a uniquely intimate duo collaboration, drawing from impressionism, jazz, and the great Brazilian songwriting tradition. The duo's global take on music is largely expressed through the distinct compositional voice of Faquini, with occasional lyrics penned by Cressman. Their original material features songs in three different languages and encompasses a vast spectrum of musical ground. With the warm instrumentation of acoustic guitar and trombone and two-part vocal harmonies hugging the Brazilian-accented Portuguese, Cressman & Faquini weave their musical voices together to create a fully orchestrated sound befitting a much larger ensemble. Together Cressman and Faquini performed in the US at venues including the Monterey Jazz Festival, SFJAZZ Center, and and in Brazil, Portugal, Spain, and Italy.
Cressman has spent the past eleven years touring the jam band circuit as a horn player and vocalist with Phish's Trey Anastasio, while also collaborating with many illustrious figures on the New York City jazz scene. When she's not performing her own music, Cressman can be found collaborating with some of the most illustrious figures in rock, funk, jazz and beyond, which have included Phish, Big Gigantic, Carlos Santana, Escort, Wycliffe Gordon, Nicholas Payton, Anat Cohen, The Motet, and Umphrey's McGee.
Born in Brasília and raised in Berkeley, Faquini was a member of the renowned Berkeley High School Jazz program before going on to study at the California Jazz Conservatory in Berkeley and, immediately after graduating, joined the faculty there. He has performed throughout Europe, Japan, Brazil and the United States and has shared the stage and recording studio with such names as Guinga, Brad Mehldau, Chris Potter, Spok, Lee Konitz, Fleurine, among many others.
0:00/4:29

0:00/2:05

0:00/3:06

0:00/4:35

0:00/3:32